1
Since 2018, this company has been added to the  products that can be delivered via UMEFA. DEFA Europe BV also has a wide range of products, such as lightweight folding tables with a bamboo top, mattresses for caravan, camper and boat, back and seat cushions that are delivered to private individuals via the physiotherapist.
Next to this line is also a solid range of mechanical steering wheel lock which not only protect against car theft but also prevents the removal of the airbag. These steering wheel locks have a high security-standard so they can proudly have the SCM quality label which is accepted by the insurance companies.
More information
Follow a manual added link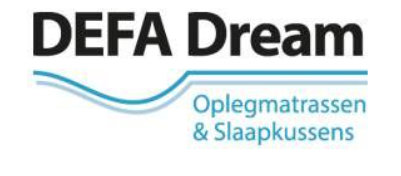 1
To improve the comfort of your bed in a trailertent, caravan, motorhome or boat DEFA DREAM offers a range of mattresses and sleeping pillows which consisting of:
Overlay mattresses, as an extra mattress made of NASA memory foam, with and without terry cloth or a double cloth cover.
Combi mattresses:

 

a cold foam mattress with a top layer of NASA memory foam,

 

equipped with a removable washable double cloth cover.
Cushions made of visco-elastic material for pleasant sleeping comfort.
Of course we can adapt our mattresses to the dimensions you require at an additional cost.
For more info: www.defadream.nl  ( sorry, at the moment it is only in Dutch)
Follow a manual added link
1
The SCM-approved Disklok steering wheel locks offer mechanical protection against car theft and due to the visible presence it works preventively against a possible theft of car, camper or delivery van. The strong disc made of high-quality steel, covers the entire steering wheel which will also prevent removal of the airbag. The integrated hardened steel cylinder lock has a unique key system,
In addition to the Disklok, DEFA also offers the STOPLOK steering wheel locks with or without LED signaling. Equipped with a hardened steel cylinder lock with its own unique key system, these locks prevent the steering wheel from turning 360 ° once the STOPLOK is mounted.
For more information:  www.disklok.nl ( sorry, at the moment it is only in Dutch)