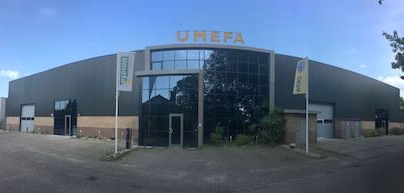 Late 1940's Wijnand Crull, not the current director but his grandfather, unintentionally came into possession of some eccentric presses. That was the beginning of his life as a manufacturer of metal products. In the momentum of the economic reconstruction the company grew steadily through deliveries to the construction industry and the emerging bicycle industry.
After the death of "Grandpa Crull", the company was continued by his sons David and Nico Crull. They went further and in addition to the existing sales channels also supplied products to Berini (a Dutch manufacturer of mopeds) and DAF (Manufacturer of cars). In the early 1960s the Dutch were given more free time. That was an opportunity for UMEFA to focus on products for the recreation sector in addition to the industrial supply.
When the company was taken over by Ton and Wijnand Crull (sons of David Crull) in 1994, UMEFA was now a established name in the camping industry. The new generation expanded the company with a few new product groups and thus managed to secure a solid position for UMEFA among the foreign wholesalers.
In 2012 the license agreement was signed with the Municipality of Maassluis, which has since formed the basis for the cooperation with SOW Maassluis.  20,000 chairs, 25,000 tables and many thousands of other camping furniture related items are produced there every year. Dukdalf has become an inseparable addition to our camping program within the group.
With the acquisition and arrival of DEFA Europe BV in February 2018, not only 3 new employees were added to the group but also a stock of 650 europallets with goods. With the entry of DEFA Europe the range of products was further expanded and several new product groups were added.
The combined wide range of UMEFA – DUKDALF – DEFA makes it possible receiving products from these 3 companies by placing one single order regardless whether this is a direct order via our representatives, by email or by the webshop.